---
Innenwald Workshop: Sakura Senses
During the Spring Healing Exhibition at Tokyo Art Studio in Tokyo Minami-Azabu, we held two Innenwald Workshops, with the theme "Sakura Senses".
The Innenwald Workshop
The Innenwald Workshop is aimed at people who wish to (re-)discover their creativity and reconnect with nature in an artistic environment and guided painting session. We practice Indoor Forest Bathing – with the help of sound baths and aromatherapy – and let the sounds and fragrances guide us on our Creative Journey. You can read more about the workshop and the Innenwald Method© on This Page.
Update: We worked with a videographer, who has documented this workshop: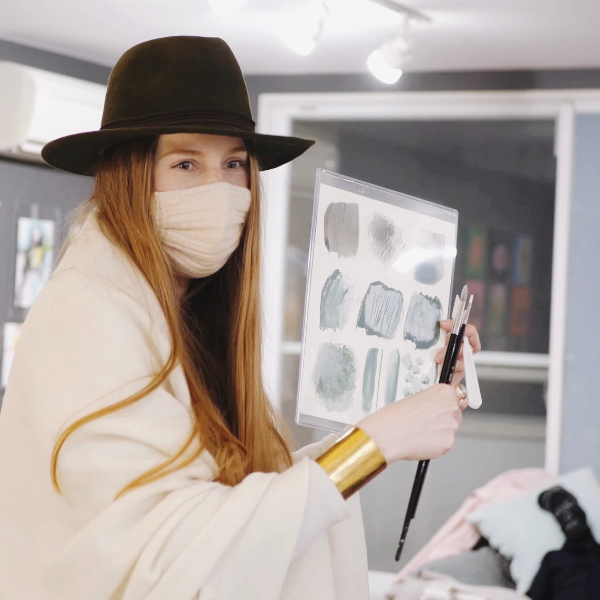 Workshop Concept
---
Sakura Senses Theme
In Japan, spring is the season of Sakura. In this seasonal Innenwald Workshop, we explored the theme of Sakura in intuitive paintings, working with a limited color palette of soft pinks and sage greens, in acrylics on paper.
---
Sound Bath & Classical Piano Music
For the Sakura Senses Innenwald Workshop, I wanted to combine the regular meditative nature sound bath with classical piano music. Japanese pianist Emiko Sato has allowed us to play music from her debut album Romantic Moment during this workshop. The album features selected pieces by composers of the romantic period. The selection of music, as well as the album art, was inspired by the transitoriness of the seasons – and especially Emiko's love for Sakura.
---
Aromatherapy
As part of the Indoor Forest Bathing experience, we were using one of the 3 original Forest Air aroma blends in an aroma diffuser. The workshop participants sampled all 3 aroma blends at the beginning of the painting session. They then decided as a group, which aroma should be used during the workshop.
---
---
What is Innenwald
Innenwald is a combination of the German words Innenwelt (Inner World) and Wald (Forest or Woods). It can be translated into English as Inner Forest, Indoor Forest or Forest Within. The artist Sonja Kanno has created this word, in order to describe the metaphorical forest of thoughts, feelings and memories that lives inside of us. To some, this is a place of shadows and mystery. To others, it can be a place of insight and inner peace.
---
Explore my World
Subscribe to my Artist Journal Newsletter
and join me on a Creative Journey through Japanese Nature
---